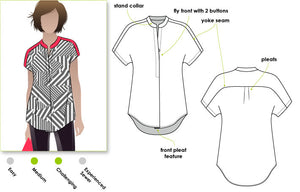 This is a great over-shirt with an interesting sleeve and back yoke. The fly front and pleat gives the shirt an ease of movement with relaxed look. Wear it over your favourite narrow legged pant.
Fabric Suggestions:Washed silk, cotton, rayon, any soft woven fabric
Fabric Estimate:
For fabric 148cm wide - Sizes 4 -18 1.5m, Sizes 20 - 30 1.75m
Interfacing:
For all sizes 10m of 110cm wide interfacing. 
2 x buttons 11mm 
Size Chart - CM
      Shoulder    Upper    Bust    Waist    Hip
       Breadth      Arm 
4          34.4       26.4       77       60       83
6          35.6      27.6        82       65       88
8          36.8      28.8        87       70       93
10        38         30           92       75       98
12        39.2      31.2        97       80       103
14        40.4      32.4        102     85       108
16        41.6      33.6        107     90       113
18        42.8      34.8        112     95       118
20        44         36           118     100     124
22        45.2      37.2        124     106     130
24        46.4      38.4        130     112     136
26        47.6      39.6        136     118     142
28        48.8      40.8        142     124     148
30        50         42           148     130     154