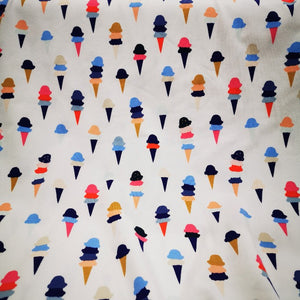 Art Gallery Cotton spandex (5%) jersey in white background with ice cream cones in colours of pink, light and dark blue, caramel, peach, white, cream, grey and black. Has fabulous return. Oeko Tex certified.
150 cm wide.
Made in South Korea.
Perfect for all knit garments, t shirts, leggings, underwear and dresses.
***Please note that fabric is charged per 25 cm so if you would like to order one metre, order 4 units. Any multiple orders will be cut continuously.***