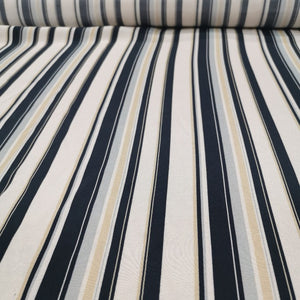 55% cupro, 45% viscose blend with a smooth satin like finish. Alternating stripes in oatmeal, navy, caramel and greyish blue. Fabric is opaque but due to light colour way does allow some light in. Dense weave with fine yarn and has a very soft silky hand and fluid drape. 
140cmWide. Made in Japan
Perfect for tops, dresses, wide leg pants and drapey jackets.
 ***Please note that fabric is charged per 25 cm so if you would like to order one metre, order 4 units. Any multiple orders will be cut continuously.***